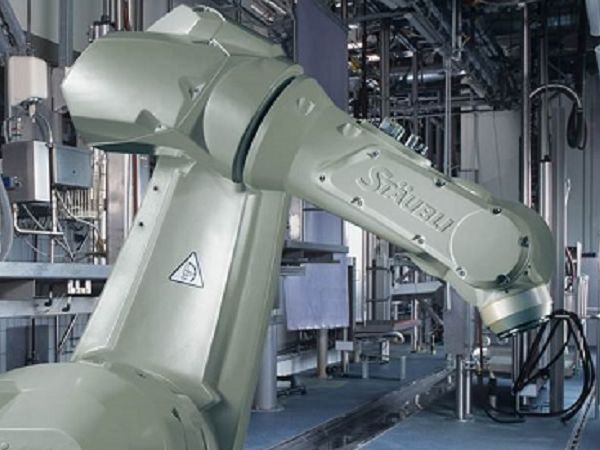 Client: Milmeq
Industry: Food
Project: Supplying cutting-edge technology for automated meat processing
CNC Design supplies Milmeq with a washable Staubli robot
R&D project to create an advanced automated sheep processing system
A retrospective case study about a project completed in 2012. Milmeq has since been sold.
The client: A world leader in meat processing systems
Milmeq is one of the world's leading providers of meat processing systems and abattoir equipment. They offer everything from abattoir designs and overhead conveyors in different sizes through to automated processing stations and chilling and freezing solutions. Milmeq meat processing equipment and systems and are widely used for red meats, poultry, seafood, dairy products and fresh produce.
The challenge: supply a highly washable abattoir robot for an R&D project
Milmeq's R&D Project Manager, Peter Loeber, requested a Staubli robot as part of a research and development project to design a more optimised and automated sheep processing system. The Staubli robot was selected as part of an evaluation phase of suitability in the meat industry environment.
"The meat industry operates under very strict conditions in terms of hygiene. The new robot needs to perform complex manoeuvres reliably and withstand two to three washes with harsh chemicals every day," says Peter.
CNC and Staubli assisted with the provision of technology which enabled Milmeq to program and install the robot with a view to lower production costs, increase health and safety, and improve hygiene standards.
CNC's solution: A Staubli robot designed for the food industry
"We selected the Staubli robot because it's specifically designed for the food industry," explains Peter. "It has a closed structure with internal wiring, and is completely sealed. That means that it can be washed down as it is. The arm doesn't need to be enclosed in a special bag like other robots." The Staubli robot also has a much smaller footprint than other robots, taking up less space and making it easier to install in existing processing lines.
Peter says: "We needed a robot that can handle the unique control aspects of a variable product, such as on a meat processing line, and we knew that CNC could support our development. They've responded very well, are very thorough and document everything to a high standard."
CNC has unique experience in applying production type technologies to different applications. Their working culture is centred on a commitment to quality and continuous improvement. Understanding that the New Zealand meat industry is using more aggressive chemicals than most other countries, CNC is running a number of chemical exposure tests in partnership with Staubli and Milmeq. This will allow them to optimise the performance of their machine in the client's specific environment.
The result: Staubli robot trials are underway
The Staubli TX200 HE2 robot is currently undergoing extensive trials at a meat processing plant in the South Island to evaluate its performance on the production line and how it copes with the harsh cleaning regime.