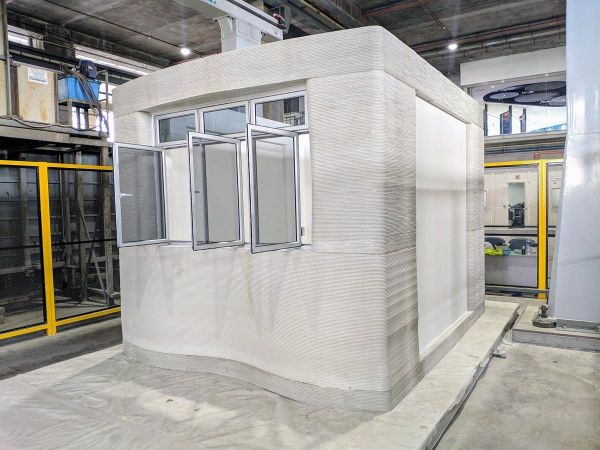 CNC Design have developed Wide Area 3D printers. We currently print in concrete, composite thermoplastics such as ABS with carbon fibre, and high density wax. This is done by leveraging off our advance Siemens Automation and Drive knowledge, combined with our distributorship of Güdel wide area gantries.
CNC Design NZs sister companies in Melbourne & Singapore have collaborated with Witteveen+Bos to develop and supply Virtual Smart Factory (VSF) 3D Concrete Printing Systems. The two companies have been able to successfully combine their expertise: CNC Design's machine tool & industrial automation knowledge and Witteveen+Bos' 3D concrete printing engineering expertise. The result is a VSF 3D Concrete Printing System that is customised to the client's requirements. This includes full turnkey solutions with design, engineering, installation and delivery of the fully integrated system, with all the electrical and mechanical parts designed to ensure efficient setup and easy operation.
CNC Design is responsible for the delivery and installation of the turnkey system. Witteveen+Bos provide on-site training for the clients' staff, with detailed knowledge of 3D Concrete Printing technology, settings and software.
CNC Design's presence in New Zealand, Australia & South East Asia, including Singapore, Thailand & Malaysia together with Witteveen+Bos' Singapore location, ensures local support in these regions.
3D CONCRETE PRINTING SYSTEM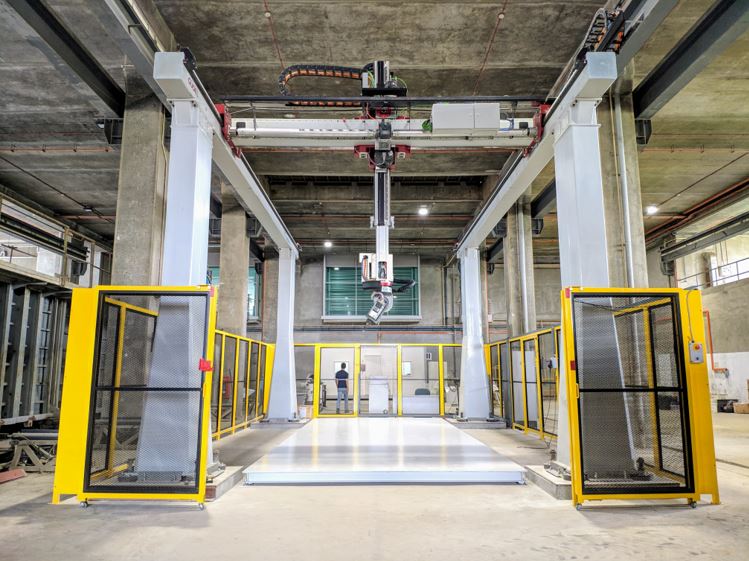 CNC Design's VSF – Siemens Industrial Automation + Güdel Wide Area Gantry
On September 16th, 2019, South-East Asia's largest 3D Printer for construction was declared operational in Singapore by the local Housing and Development Board (HDB).
This 3D Concrete Printing System is capable of printing concrete components up to 9m long, 3.5m wide and 3.8m tall. The project is a joint effort of Robin Village Development Pte. Ltd., Nanyang Technological University and Witteveen+Bos. Witteveen+Bos engaged CNC Design for the development of an advanced 6 Axis gantry robot as part of the 3D Concrete Printing System.
The location with the 3D Concrete Printing System and the first fabricated part were visited shortly before the operational date by the Minister of National Development Mr. Lawrence Wong and the CEO of HDB, Mrs. Cheong-Chua Koon Hean. They were shown a room-sized 3D printed component of about 11m2 (3.6m long x 3m width x 2.75m high), produced in 13 printing hours, which was a successful product of the printing trials.
As Singapore's public housing authority, HDB is responsible for the development of 80% of the housing in Singapore. There is a great demand for housing and 3D concrete printing could help to speed up the housing development task HDB faces.
Currently, the design and fabrication of concrete building elements using the conventional method of precast production is time-consuming and requires high labour content. Besides, the used molds in construction will be discarded, resulting in material wastage. Construction using 3D printing, on the other hand, combines digital Building Information Modelling (BIM) technology with additive manufacturing techniques to allow free-form construction without the need for molds or forms, thereby reducing the environmental burden of material waste. The method also opens up new opportunities for creating geometric forms that would be near impossible to create with traditional methods.
For Witteveen+Bos, this milestone proves the viability of their efforts in the field of 3D printing for construction. Witteveen+Bos has been working on 3D concrete printing since 2015 as one of the pioneers. As a frontrunner, they paved the way for the first 3D-printed pilot projects around the world, such as the first 3D printed structural bridge and the first liveable 3D printed houses.
This 3D Concrete Printing System brings together CNC Design's core knowledge of machine tool & industrial automation, based on Siemens Sinumerik CNC technology & Güdel Cartesian gantries, with Witteveen+Bos' knowledge of 3D printing for construction & the related software elements.
Virtual Smart Factory for 3D Concrete Printing Systems
The basis for the 3D Concrete Printing System is CNC Design's VSF-Concrete. The VSF concept has been applied to machining, handling & additive manufacturing, not only for concrete, but also for high density wax (used for making GRC Panel moulds) and composite thermoplastics such as ABS with carbon fibre.
Using Güdel 3 Axis Cartesian gantry modules as the platform for the VSF means we have a well proven system with high accuracy and scalability to very large sizes.
The ability to add additional bridges (additional & independent X, Y & Z axes) allows unlimited flexibility from a single machine, e.g. placement of material between print layers or surface milling.
The Siemens SINUMERIK 840Dsl flagship CNC is the perfect control system with its ability to handle multiple technologies & multiple operations from a single system. Technology functions such as 5 & 6 axis machining, multi-channel operation & velocity dependent process control provide an advanced CNC system that also scales to suit the application.